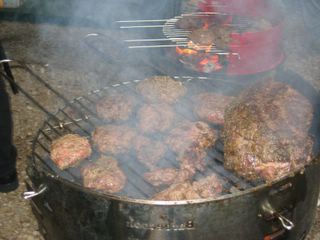 So, on this
blog post
that I read, the author listed 5 people that he had never met that he would have over for a BBQ, if he could. So I've been formulating my list in my head the last couple of days. Here's where I'm at:
Brian McLaren
[Christian author] -- I could trust Brian not to embarrass me (not necessarily true of a lot of author Christian authors, I fear). I've met Brian once, but I'd love to have a conversation of importance.
Anna Quindlin
[columnist, novelist] -- Every week,
Newsweek
alternates between Anna Quindlin and George Will writing a column called "The Last Word." Over the years, as I've read
Newsweek
, I find myself resonating with Anna. While our political views are pretty far apart, her keen insight and strong liberal leanings would make the BBQ conversation sizzle!
Dave Matthews
[musician] -- yeah, no shocker for those of you that know me at all. I racked my brain on this one trying to think about an artisan to have at my BBQ, and the numerous "God references" in Dave's songwriting tipped the scale in his favor.
Bono
is a close second here...it would really depend on my mood when I sent out the invites!
Charlie Rose
[journalist] -- on the local PBS station, they air Charlie's show at 11pm, I believe. No commercials, interviews range from 15 min to a full hour, none of the arguing crap that you see on network and cable news, just earnest discussion and a desire to really understand. To me, Charlie is a master interviewer, because instead of trying to trap those he interviews, he seems to earnestly seek to understand.
Will Smith
[actor] -- up to this point, it's a pretty heavy dinner party. Will is there to lighten the mood, provide the laughs, but at the same time, in the interviews I've seen, it seems that Will would be able to hang with the intellect of the others (unlike somebody like Robin Williams or Jim Carey who would be uncontrollable.) I'm really not married to this list...I would love to hear yours!