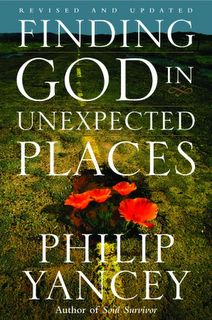 One of my joys in life is when I think I've read everything by a particular author, but then stumble upon a book that I didn't know about. Such has been the case recently with Philip Yancey's
Finding God in Unexpected Places.
It's a revised edition of a book originally published in 1995. Sadly, I've overall been a little disappointed with the book -- it sometimes seems to be going nowhere.
However...
I was reading a chapter talking about grace last night and a concept hit me that really made sense for me. Yancey was telling a story about his friend who was preparing to divorce his wife, and asked Yancey if he thought God would forgive him afterwards. Here was Yancey's response to his friend.
"Here is what I told my friend Daniel, in a nutshell. 'Can God forgive you? Of course. Read your Bible. David, Peter, Paul -- God builds his church on the backs of people who murder, commit adultery, deny him, and persecute his followers. But because of Christ, forgiveness is now our problem, not God's.
what we have to go through to commit sin distances us from God -- we change in the very act of rebellion -- and there is no guarantee we will come back. You ask me about forgiveness now, but will you even want it later, especially if it involves repentance?'"