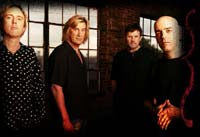 Confession: I grew up in the Christian ghetto. I remember the first time I brought home a "Christian Rock" tape (yes, I grew up in the SWEET era of cassette tapes) and my mom wasn't quite sure if it was okay. One of the first tapes I brought home was a Petra tape --
Not of this World,
I believe, and the first two "Christian Rock" tapes I bought were
Medals
, by Russ Taff and
Back to the Street
, by Petra. Anyway, since then my music tastes have definately grown up, and for me Petra has, in some ways, come to represent all that is laughable in the catagory of "Christian Rock." (Here's my beef in a sentence -- People in the Christian ghetto trying to convince people that "Christian Rock," is actually better music than real rock music.) What cracks me up about Petra, is that they are as pathetic as the Rolling Stones in terms of old men who refuse to hang up the guitar, or at least move on to Buffet, or James Taylor stylings. But the thing with Petra is that at one point, a couple years ago,
no one from the original band was even in the band,
although one person came back for their most recent release. Anyway, I don't really hate Christian musicians in any way, I just think that when you're trying to "copy the world" you often come off a little (okay a lot) cheesy. Petra did a good thing 30 years ago in pioneering a brand of music that had a rock-feel but good lyrics, but it just doesn't play in Peoria anymore (okay, if you live in Peoria, you have to say stupid stuff like that sometimes). After 33 years, Petra has decided to finally close up shop...RIP.